Hello bookish friends and readers! Whenever you are, I am glad you are reading this post. Today's post is going to be about Marissa Meyer's debut novel, Cinder. This book was so good because it had a ball, cyborgs, the plague, and a queen from the moon?! Plus, it is a retelling of Cinderella! Check out my review!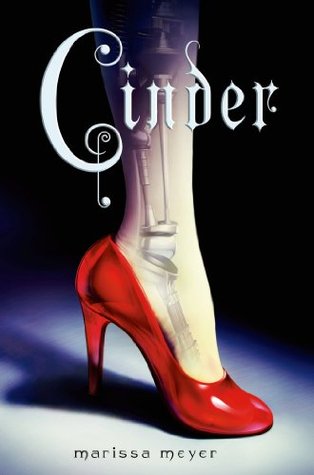 Title: Cinder
Author: Marissa Meyer
Publisher: Feiwel & Friends
Publishing Date: January 3rd, 2012
Length: 390 pages
Source: Library
About: Humans and androids crowd the raucous streets of New Beijing. A deadly plague ravages the population. From space, a ruthless lunar people watch, waiting to make their move. No one knows that Earth's fate hinges on one girl.
Cinder, a gifted mechanic, is a cyborg. She's a second-class citizen with a mysterious past, reviled by her stepmother and blamed for her stepsister's illness. But when her life becomes intertwined with the handsome Prince Kai's, she suddenly finds herself at the center of an intergalactic struggle, and a forbidden attraction. Caught between duty and freedom, loyalty and betrayal, she must uncover secrets about her past in order to protect her world's future. (Goodreads)
Wow, this book blown my mind and left me on a cliffhanger that made me so mad, but I just want to read the next book ASAP.
I loved it so much.
Cyborgs, a ball, a prince, the plague, and so much more?! Mind blowing!
Cinder is basically a retelling of Cinderella, but she is a cyborg and she has a huge secret that she didn't even know! She doesn't want to tell anybody that she is a cyborg, but a few know she is a cyborg like her stepmother (of course), her two step sisters (so obvious), and her best android friend, Iko. Her stepmother and Pearl, one of her step sisters, dislike her a lot and they never wanted her because she was a "disgrace to her family." On the other hand, Cinder's other stepsister, Peony, actually likes Cinder and she wanted to spend time with Cinder and Iko when they went to the junkyard. Then, something bad happens to Peony and Cinder too.
In the beginning of the book, Cinder gets to repair Prince Kai's android after something is wrong with it and the Palace can't repair it. It felt like Cinder and Kai had a connection because they did of course. A shocking surprise happens at the end though and it made me so mad!
Why can't you like somebody even though they are completely different than you?! Why can't you accept their differences?! Why can't we all just be friends?!
This book also had a lot of action in it to like towards the end at the ball. You wouldn't think a ball would have a lot of action in it though, but I liked it. Wait, not liked, LOVED IT. Also, the whole fate of the world rests on her shoulders. Scary!
Overall, this book is four stars. It was so descriptive, I was so attached to the characters, and I really love the girl power determination in Cinder. Go Cinder!
I really can't wait to read the next book in the series! Have you read Cinder?