Hello! Welcome to another "When I First Saw You" post. I promise, there will be many more posts coming soon that are not just memes and link-ups. I love doing "When I First Saw You" and nobody can stop me! *laughs*
Anyway, "When I First Saw You" is a weekly link-up hosted by Sophie @ Sailing Through Books and co-hosted by Izel @ A Bookish Flower. You get to make up your own synopsis based on the cover of the book. It can also get you inspired for Camp Nanowrimo coming soon in April.
It is super fun and super easy to do! Just click the following two links up there and go check out their blogs for more information.
This Week's Cover…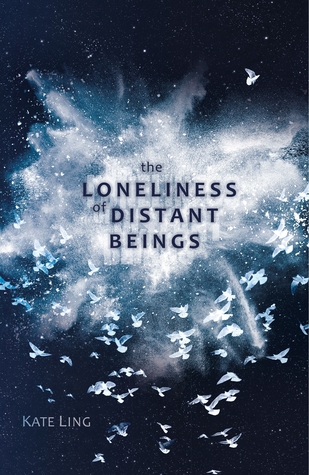 Title: The Loneliness of Distant Beings
Author: Kate Ling
Publisher: Little Brown Books
Release Date: May 19th, 2016
My Synopsis:
"I remember seeing the seaside from my house, the white seagulls calling me, they wanted me to come play. Suddenly, it got dark outside and it became lonely and everybody was hiding something. It seemed like people were drifting away like waves on the ocean. I don't remember much after that, but I remember the world turning upside down."
Lily Carter wants to know more about the world. She wants to know everything and everybody. Then, her world turns upside down.
Her friends won't talk to her, including her family who are keeping secrets and everybody seems to be drifting away from her, but not the little old woman who lives next door, who Lily thinks is absolutely crazy, but it turns out she could be her only hope.
It turns out Lily is special and she can never be lonely. She always has somebody that loves her around. The crazy, little, old woman next door tells her to do what nobody has ever done before. Find out what is happening.
Lily will have to fight for everybody's life, including hers as she tries to figure out the mystery of why everybody is hiding secrets and why everybody is lonely and drifting away. Find out what happens in The Loneliness of Distant Beings by Kate Ling.
The Real Deal:
It is that quick, it is that strong, it is that beautiful. And it is also totally impossible.
Even though she knows it's impossible, Seren longs to have the sunshine on her skin. It's something she feels she needs to stay sane. But when you're floating through space at thousands of kilometres an hour, sometimes you have to accept there are things you cannot change.
Except that the arrival of Dom in her life changes everything in ways she can barely comprehend. For a while he becomes the Sun for her; and she can't help but stay in his orbit. Being with him flaunts every rule designed to keep their home in order, but to lose him would be like losing herself.
In the end they must decide what is most important: loyalty to the only home they've ever known, or to each other?
Verdict:
I heard that this book was supposed to be set in a space dystopian time and now I just can't wait to read it! I have read a lot of books where the world is set on Earth, but this one is in space?! I just can't wait for this book to come out, so I can read it!
Anyway, my synopsis wasn't close to the actual synopsis, but I love mine and the original, so I am not going to complain.
Have you done "WIFSY" this week? What do you think about Kate Ling's The Loneliness of Distant Beings