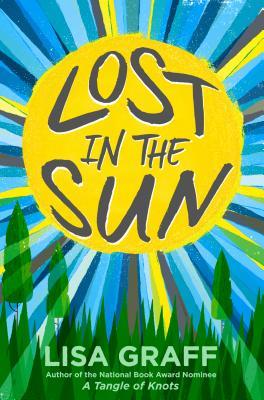 Hello! Have you ever read an amazing book that you swallowed it whole in just one day? I have and this book was not like any other book I have ever read!
Lost in the Sun is written by Lisa Graff, author of the National Book Award Nominee for another book of her's, A Tangle of Knots. Check out my review of Lost in the Sun!
Title: Lost in the Sun
Author: Lisa Graff
Publishing Date: May 26th, 2015
Source: Library
About: Everyone says that middle school is awful, but Trent knows nothing could be worse than the year he had in fifth grade, when a freak accident on Cedar Lake left one kid dead, and Trent with a brain full of terrible thoughts he can't get rid of. Trent's pretty positive the entire disaster was his fault, so for him middle school feels like a fresh start, a chance to prove to everyone that he's not the horrible screw-up they seem to think he is.
If only Trent could make that fresh start happen.
It isn't until Trent gets caught up in the whirlwind that is Fallon Little—the girl with the mysterious scar across her face—that things begin to change. Because fresh starts aren't always easy. Even in baseball, when a fly ball gets lost in the sun, you have to remember to shift your position to find it. (Goodreads)
EEK! I am so happy! I am crying for joy because I want Lisa Graff to make a sequel to Lost in the Sun!*
*Well, I am not crying. I am just really happy that I read a book that I liked. It just makes me want to write a book just like this, but I can't copy it. Only Lisa Graff can write a book like this.
I don't think I have ever read a book like this. It was so different and I connected with Trent and I felt his pain even though I wasn't going through what he was going through. When you read a book, sometimes you can feel what the character is going through. Yes, ISN'T IT AMAZING?!
Anyway, Trent Zimmerman's parents were divorced and he killed a boy named Jared when he accidentally hit him in the chest with a hockey puck, but he didn't know that he had a heart defect. He also thinks the whole town hates him, but it is mostly the mean kids and Jared's little sister.
I mean, it was a freak accident. What if Trent wasn't there and the kid got killed anyway? It would be his fault in my opinion, but I do feel bad for Trent because he didn't mean to do it. Like I said, it was a freak accident.
Then, Trent meets a girl named Fallon Little that goes to his school and she sticks up for him in the park and they turn out to be the best of friends and it is just really adorable. I just love it so much.
They do all of these fun things together and they are just the cutest friends ever. They have a friendship that nobody else in this world has because it was kind of an unlikely friendship between Trent and Fallon. You would never think that they would be friends in your lifetime, but Lisa Graff made it all happen. I thank her for that.
Mrs. Lisa Graff, if you are reading this right now, I just want to say that you wrote an amazing middle school age ranged book that I really enjoyed. For a girl who is in middle school, I actually learned a lot from this book like to always speak the truth, as Mrs. Emerson said to Trent. I will always remember that quote for my whole entire life and I will remember to speak the truth. Sincerely, Maddie
If you or your child wants to read this book, I would recommend that you should be 12 or older to read this book. It has a little bit of mild language, but it is mostly the dad saying bad things to Trent or the things Trent is thinking in his mind.
I really hope that you get to read this book one day because it is one of the best books I have ever read in my entire life.
I would say that this is a 5 star book, but can we go up to 100 stars for this book? Well, I think that may be impossible, but one day the people who run the star rankings will realize how much our feels can control a book, so they will have to bump it up to 100 stars.
Have you read Lost in the sun? Comment your thoughts about the book below!