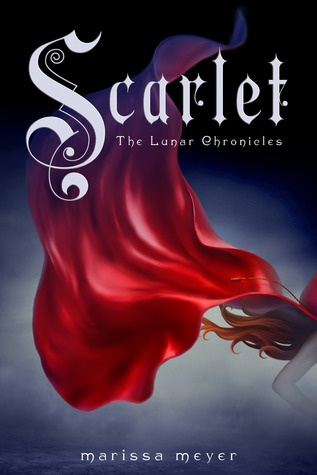 Hello everyone! Sit back and relax because this review is going to be great! I just got done with Marissa Meyer's second book in the Lunar Chronicles series, Scarlet.
It is pretty much a retelling of a classic fairy tale with a girl with a red hood and a big bad wolf and a grandmother. Can you guess what it is?
Umm, yes I can. It is Little Red Riding Hood.
DING DING DING! You are correct! That was an easy question for you to answer. I'll have to give you a harder one sometime. Anyway, there is no time for harder questions. Let's get onto the review shall we?
Title: Scarlet
Author: Marissa Meyer
Publishing Date/Publisher: February 5th, 2012 by Feiwel and Friends
Source: Library
About: Cinder, the cyborg mechanic, returns in the second thrilling installment of the bestselling Lunar Chronicles. She's trying to break out of prison—even though if she succeeds, she'll be the Commonwealth's most wanted fugitive.
Halfway around the world, Scarlet Benoit's grandmother is missing. It turns out there are many things Scarlet doesn't know about her grandmother or the grave danger she has lived in her whole life. When Scarlet encounters Wolf, a street fighter who may have information as to her grandmother's whereabouts, she is loath to trust this stranger, but is inexplicably drawn to him, and he to her. As Scarlet and Wolf unravel one mystery, they encounter another when they meet Cinder. Now, all of them must stay one step ahead of the vicious Lunar Queen Levana, who will do anything for the handsome Prince Kai to become her husband, her king, her prisoner. (Goodreads)
Oh my gosh, this book was so good, but it had its pros and cons. I still really like the first book the best. This book had me jumping for joy and squealing and bouncing up and down on my bed.
Scarlet was very similar to the real fairy tale that Marissa Meyer based it on. Scarlet wore a red hood and she worked on a farm and she had a grandmother and she watched after her. By the sound of it, you can tell that it is very similar.*
*Well, more like a red hoodie, but you still know that it is similar to the real little red riding hood.
There is also a guy named Wolf and he is supposedly the big bad wolf, but he is the cutest thing in the history of the world besides pandas and Josh Hutcherson.
Wolf has never tried a tomato and when he tries a tomato, it is the cutest thing ever. Why can't we all have a wolf? They are cute and furry and adorable. I mean, look at the wolf stuffed animals at a toy store. Aren't they cute!?
He is also very protective of Scarlet even though Scarlet doesn't fully trust Wolf yet because he is a part of a gang that fights all of the time in an abandoned house. When Scarlet learns that the mysterious gang has kidnapped her grandmother, she brings Wolf along to find where her grandmother is at.
On the other side of the world, Cinder is in her jail cell wanting to escape. She finally finds a way to escape and she brings to a cadet named Throne, who calls himself the captain of his spaceship that he had stolen. Guess how Throne got in jail?
He started a protest about the soap.
Okay, I find it very funny about going to jail over a protest about soap, but it is very silly.
Anyway, they find a way to escape and Cinder wants to find Scarlet's grandmother, so she can tell Cinder how she got to Earth and how she turned into a half cyborg, half human teenage girl.
Stay with me, we are still in New Beijing. Kai is stressed out about Cinder escaping jail and Queen Levana starts a war on Earth because she wants to find Cinder and execute her.
When Kai wants the war to stop, he does something that he should have never done in a million years and if I could jump into the book and find him, I would strangle him. Prince Kai, you better be glad that you are a fictional character!
Overall, this book is a five star book and I can't wait to read the next book in the series, Cress. 
have you read scarlet? what is your favorite fairy tale? has anybody thought that this book was the scarlet letter?* 
* i know, it is a random question, but everybody that I have told has gotten mixed up with the scarlet letter.
Oh and P.S: Follow me on Bloglovin and never miss a post!