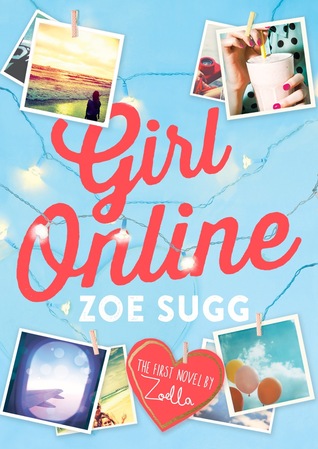 Hello everyone! Guess what? I went book shopping even though I had 7 dollars!
Wait, how did I get a book for less than 7 dollars? Here's the story.
I went to this amazing place called "Ollie's Bargain Outlet" and they literally have everything. I repeat, EVERYTHING.
I brought my 7 dollars that I have been trying to save up for months, but the amount wouldn't go up. I was looking through the books, but none of them caught my eye. I went over to a section of novels and I found Girl Online sitting behind some other books.
I was going to die, but I wasn't going to die right in front of the store. That would be awful. I just felt so happy and guess how much it cost?
Four dollars.
EEEK! Isn't that amazing?! I was so shocked because it cost 15 dollars at other stores, but it was 4 dollars there!
Anyway, I am so excited to share my review of Girl Online by one of my favorite fashion and beauty YouTubers, Zoella.
Title: Girl Online
Author: Zoe Sugg
Publishing Date/Publisher: November 25th, 2014 by Atria / Keywords Press
About: I had no idea GirlOnline would take off the way it has – I can't believe I now have 5432 followers, thanks so much! – and the thought of opening up to you all about this is terrifying, but here goes…
Penny has a secret.
Under the alias GirlOnline, she blogs about school dramas, boys, her mad, whirlwind family – and the panic attacks she's suffered from lately. When things go from bad to worse, her family whisks her away to New York, where she meets the gorgeous, guitar-strumming Noah. Suddenly Penny is falling in love – and capturing every moment of it on her blog.
But Noah has a secret too. One that threatens to ruin Penny's cover – and her closest friendship – forever.
I AM SO HAPPY RIGHT NOW! THIS BOOK WAS SO GOOD!
Penny is an insanely quirky girl with red hair and she is very clumsy. She also has a blog. Can she be my fictional twin?*
*well, not exactly. I don't have red hair and I am not very clumsy. well, we have our differences.
Anyway, when I first saw Girl Online in stores, I knew that me and the book were meant to be. I mean, the cover was beautiful with fairy lights and Polaroid pictures of a girl with a smoothie (That is probably Penny) and a picture from the sky in a plane. It was all so beautiful.
I loved the characters a lot. Penny, Elliot, Noah, and even the adorable little Bella. I connected with every character in some sort of way.
I think I can mostly relate to Penny because I am kind of shy and I just want to be in the shadows sometimes. I don't always want to be in the spotlight, but when I get my chance, I do get in the spotlight.
I was really wanting Penny and Elliot to get together because they have been best friends for their whole entire lives and they have a knocking code and everything. They also live next to each other which is really cool.
When Penny met Noah, I knew that it was love at first sight. Yes, I imagined him as a sweet and romantic guitar strumming American. Somebody buy me a ticket to New York, so I can meet the guitar strumming American.
What really makes me sad is that when I go on Goodreads, there are so many negative reviews about the book. I know what you are thinking. People have their own opinions. I see reviews like, "I love Zoe a lot, but I didn't like this book. I mean, they call him "the walking selfie?!"
Yes, I have my own opinions also and other people have their own opinions. I respect that.
What really inspired me in the book is that Penny opened up to all of the readers on her blog. Towards the end, she talked about something that is really important today.
Technology.
Technology seems to take over our world now. Every time our phone rings, we have to answer it. Every time our phone goes off with a text or e-mail alert, we have to check it. Every time we have the urge to look on our phones or computers or tablets, we look on them.
Everyday, somebody in the world posts a negative comment, trying to ruin that person's day because they think that they are "brave."
Well, that person is not.
Just because you are behind your screen doesn't mean that you have to write a negative comment on a post. When you write a negative comment and you press the publish button, you can't see the person's reaction behind the screen. You don't know what the person is going through. Keep one of Zoella's quotes in mind as you think about this. Kindness is like confetti. Just throw it all around the world.
I will tell you this though. Before you publish a post, a status update, or a comment, think to yourself. Will that make the world happy? If it will, publish it. If it won't, don't.
Also, try being like Noah. If you are overwhelmed by the news on your Facebook page or if you are disgusted by a picture or Instagram, go on a technology detox.
If you don't know what that means, I'll tell you.
It means to turn off your tablets, computers, and phones and just live life without staring at your screen for hours. I promise that it is amazing without looking at a screen for days.
I will have to rate this book 5 stars. This book is really inspiring and I really want you to read it someday because I promise that it will change you in a good way.
What do you think about Zoella's Girl Online? Have you read any inspiring books lately? What do you think about technology? Is it a good thing or a bad thing? Comment below! I would love to see your thoughts!