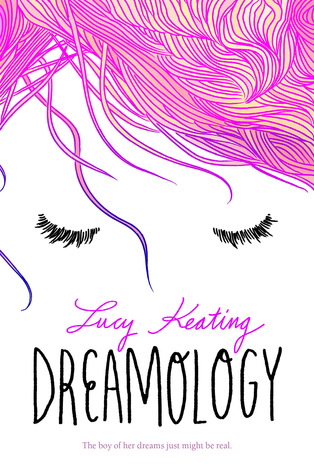 Hello! I told you in my latest recap that I would do a review of Lucy Keating's debut novel, Dreamology, and I am here to do it like I said. That is what a good book blogger does.
Like I said, today I am going to be doing my review of this wonderful book. If you aren't sure about reading Dreamology, then you better keep on reading.
Here is my review of Dreamology. I hope you all enjoy!
Title: Dreamology
Author: Lucy Keating
Publisher / Publishing Date: April 12th, 2016 by HarperTeen
Source: Library
About: For as long as Alice can remember, she has dreamed of Max. Together they have traveled the world and fallen deliriously, hopelessly in love. Max is the boy of her dreams—and only her dreams. Because he doesn't exist.
But when Alice walks into class on her first day at a new school, there he is. It turns out, though, that Real Max is nothing like Dream Max, and getting to know each other in reality isn't as perfect as Alice always hoped.
When their dreams start to bleed dangerously into their waking hours, the pair realize that they might have to put an end to a lifetime of dreaming about each other. But when you fall in love in your dreams, can reality ever be enough?
Have you ever read that one book that you have dreamed about and it turns out that it is real? Then, you say that it is the most wonderful book in the whole entire world.
Well, that is how I feel right now.
BRAVO LUCY KEATING! BRAVO! ME AND THE MINIONS LOVE YOUR BOOK SO MUCH! Wait, do the minions know how to read. I don't know, so I will find out later. I mean, they say banana all of the time. Is that the only word they know?
If you know me, I am like a book critic when it comes to books. If the book is so good, I will say it out loud from the top of the Empire State Building, only if I wasn't afraid of heights. I'll just stick to yelling it on the ground.
If I do not like the book, I will say it out loud. I don't feel bad for saying that I don't like books because everybody writes reviews and they state their honest opinions.
Do you get what I'm saying? Of course you do.
Back to the review, Dreamology is about a girl named Alice and she lives with her dad. Her dad knows a lot about how the brain works which is actually pretty cool. For Alice's whole entire life, she has been dreaming about Max, the boy of her dreams. Dreaming is completely normal. I mean, she knows that Max isn't real because he is only in her dreams.
What if Max is real though?
Alice goes to a new school and she goes to class like every ordinary teenager does. Then, she sees Max.
Max is not like Dream Max. The real Max is stubborn, he has a girlfriend, and he doesn't even know who Alice is.
What if he does know Alice, but he is too afraid to say it?
Alice and Max embark on a great adventure to uncover something that they have been wondering for a very long time. If they don't stop what is happening, they will go crazy.
Okay, it is not good for anybody to become crazy. I mean, there are two types of crazy. There is the good crazy and the bad crazy. In this case, I am talking about the bad crazy.
The reason why I loved this debut novel was because it was unique and amazing and well written. If I could get writing lessons from Lucy Keating, I would and I would be so thankful. Miss Lucy Keating, I have no idea if you are reading this or not but if you are, I just want to say thank you for writing an amazing novel for me and everybody else to enjoy. It was wonderful.
I really enjoyed having Alice as the main character of the book because Alice was somebody that you could actually relate to. She wasn't a self-centered popular girl who only cares about herself. She was really nice and she cared about a ton of people. She even cared about Max's girlfriend even though she wanted to be with Max.
Also, I kind of wished that Alice and Oliver got together. I am sorry Max, but I still like you. I just ship Alice and Oliver sometimes.
WAIT A MINUTE! I ship Oliver and Sophie too. I also ship Max and Alice. Sorry. I ship people with a lot of other people. It is completely normal. There is nothing to be worried about.
To sum this long review up, this book is five stars and if Lucy Keating writes another novel or series anytime soon, you can count on me to read it. ★★★★★
Lettuce chat! What do you think about Lucy Keating's Dreamology? What do you dream about? DO you think this wonderful debut novel looks wonderful? WHat do you think about the minions reading? comment below!