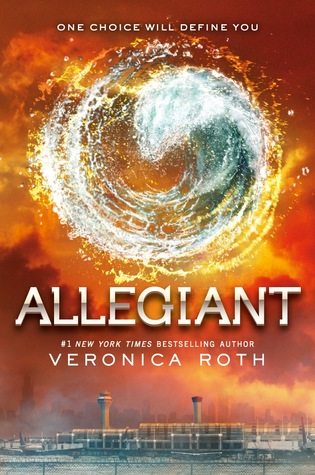 Hey guys! Remember the Read-A-Thon I was telling you all about? Well, I picked Allegiant as my book and I got done with it! The reason why I didn't read the other books was because they didn't have any of them at the library. They had three out of four books there, but all of them were checked out. I mean, the whole entire Maze Runner series was gone!
Lucky news for you guys though, I am going to be doing my review of Allegiant, the last book by Veronica Roth in the Divergent series! I laughed, I cried, and I laughed and cried at the same time. Check out my review of Allegiant!
Title: Allegiant
Author: Veronica Roth
Publishing Date / Publisher: October 22nd, 2013 by Katherine Tegen Books
About: The faction-based society that Tris Prior once believed in is shattered – fractured by violence and power struggles and scarred by loss and betrayal. So when offered a chance to explore the world past the limits she's known, Tris is ready. Perhaps beyond the fence, she and Tobias will find a simple new life together, free from complicated lies, tangled loyalties, and painful memories.
But Tris's new reality is even more alarming than the one she left behind. Old discoveries are quickly rendered meaningless. Explosive new truths change the hearts of those she loves. And once again, Tris must battle to comprehend to complexities of human nature – and of herself – while facing impossible choices about courage, allegiance, sacrifice, and love.

Told from a riveting dual perspective, ALLEGIANT, by #1 New York Times best-selling author Veronica Roth, brings the DIVERGENT series to a powerful conclusion while revealing the secrets of the dystopian world that has captivated millions of readers in DIVERGENT and INSURGENT. (Goodreads)
"I suppose a fire that burns that bright is not meant to last."
AHHH! Like I said before, I cried a lot and I laughed at some of the parts that you could laugh to, but mostly I sat in my room for four hours, wanting to get done with this book. When I did get done, I was shocked. Really shocked. I just sat there and I didn't know what to do.
Allegiant is the third book in the Divergent series and it leads off with a bang and it ends with a bang. It this book, Tris, Tobias, and their friends decide to go over the fence to see what is on the other side. They do not want to be under Evelyn's, Tobia's mother, control.
They go to the other side and they find a place where they can call it their temporary home, but what if their new home has a ton of secrets to hide?
Knowledge is power. Power to do evil…or power to do good. Power itself is not evil. So knowledge itself is not evil."
Alos, this book is told in Tris's and Tobias's points of view and at first, I didn't like it one bit. I have gotten used to Tris telling the story in the first two books and when I read the summary of the book, I was shocked that it was going to be told in two points of view. Now, I am kind of getting used to more that one point of view. I mean, books like this get you used to other books that may have more than one point of view.
Tris continued to be the hero of the story that everybody looks up to. She knew that she could fight back against evil and she did. She knew that with her friends, mostly the ones that she trusted, she could do anything.
At first, I felt that Tris was getting too much attention. I felt that she was being put in the spotlight a lot and the other characters were not getting their attention that they deserved.
Well, that is why they call them main characters.
Thank you so much minions. I'll be here all night long.
"Take a person's memories, and you change who they are."
I felt happy as I was reading the book because I got to know the characters a little bit better like Caleb, Cara, and Christina. I even got to meet some new characters like Nita, Amar, and Zoe. I love reading books because you always get to discover new places and meet new people who you will probably never meet in real life.
I love Tris and Tobias's love for each other. They were like magnets because they always attracted to each other in some sort of way. They always found their way back to each other and I found it really romantic. Sure, you may want a Tobias, but I really want a Caleb.
Look, I don't see him as a backstabbing brother that brought Tris to her own execution in Insurgent. I see him as the Augustus in The Fault in Our Stars. Hazel, how could you do that to August? I mean, you punched him in the face and he said the bruises really brought out the color of his eyes!
"But now, I am also learning this: WE can be mended. We mend each other."
You know, after reading the heart-breaking conclusion of the story, I am very happy that I finished this entire book in a week. I mean, here is a super fast reader over here! *points to myself*
I will soon be mended by the tragic ending of the story, but I am also happy to discover a new series just like this one. Maybe I could go on to a different genre or stay with dystopian books. I am just going to say that it isn't the first time that a book had a tragic ending.
Well, it is actually the second time that I have read a book with a tragic ending. It was truly tragic.
To sum this super long review up, Allegiant is a four star book. If you haven't read any of the books in the Divergent series, start reading Divergent and tell me what you think about it! ★★★★✩
have you read veronica roth's divergent series? if so, which book is your favorite out of the four? comment below and lettuce chat about divergent!