ALOHA!
Wait, it is almost winter. Don't trick us.
You know, Thanksgiving has finally came and it ended so fast. Then, the next thing that pops into my head is Christmas, which is absolutely a fantastic thing because it is the most wonderful time of the whole entire year. I am just shocked because 2016 flew by so darn fast.
I mean, what did I miss? A lot, but I think we are all good so far.
If you are new to my blog, welcome and I love you! If you have been following since dinosaurs have walked the Earth, even though they didn't have internet whatsoever, hello from the other side of my computer screen! Here is the seventh edition of my monthly recap.
Books Read in November
Eye of Minds
by James Dashner
I love James Dashner and I have missed his writing so much that I had to read another series of his. That is why I chose the "Mortality Doctrine" series. It isn't my favorite series of his because I found the first book rater confusing and all, but I am still going to finish the series once I get the chance to. ★★★✩✩
About Eye of Minds
An all-new, edge-of-your seat adventure from James Dashner, the author of the New York Times bestselling Maze Runner series, The Eye of Minds is the first book in The Mortality Doctrine, a series set in a world of hyperadvanced technology, cyberterrorists, and gaming beyond your wildest dreams . . . and your worst nightmares.
Michael is a gamer. And like most gamers, he almost spends more time on the VirtNet than in the actual world. The VirtNet offers total mind and body immersion, and it's addictive. Thanks to technology, anyone with enough money can experience fantasy worlds, risk their life without the chance of death, or just hang around with Virt-friends. And the more hacking skills you have, the more fun. Why bother following the rules when most of them are dumb, anyway?
But some rules were made for a reason. Some technology is too dangerous to fool with. And recent reports claim that one gamer is going beyond what any gamer has done before: he's holding players hostage inside the VirtNet. The effects are horrific—the hostages have all been declared brain-dead. Yet the gamer's motives are a mystery.
The government knows that to catch a hacker, you need a hacker.
And they've been watching Michael. They want him on their team.
But the risk is enormous. If he accepts their challenge, Michael will need to go off the VirtNet grid. There are back alleys and corners in the system human eyes have never seen and predators he can't even fathom—and there's the possibility that the line between game and reality will be blurred forever.
The Boy in the Striped Pajamas by John Boyne
The only reason that I wanted to read this book was because mini Asa Butterfield was in the movie. I know, that is a terrible reason. After I read the book, I have never been so interested in history. I need to know more about the World Wars and everything that happened back then. ★★★★★
About The Boy in the Striped Pajamas
Berlin, 1942 : When Bruno returns home from school one day, he discovers that his belongings are being packed in crates. His father has received a promotion and the family must move to a new house far, far away, where there is no one to play with and nothing to do. A tall fence stretches as far as the eye can see and cuts him off from the strange people in the distance.
But Bruno longs to be an explorer and decides that there must be more to this desolate new place than meets the eye. While exploring his new environment, he meets another boy whose life and circumstances are very different from his own, and their meeting results in a friendship that has devastating consequences.
Heartless
by Marissa Meyer
I recently finished "The Lunar Chronicles" series a few months ago and to find out that she was writing another book was thrilling. I was finally going to read one of her books when it was published! A little before the week ended, I finally got the chance to read it. I had mixed feelings about the book, but I guess that I still liked it though. ★★★✩✩
About Heartless
Catherine may be one of the most desired girls in Wonderland and a favorite of the unmarried King, but her interests lie elsewhere. A talented baker, she wants to open a shop and create delectable pastries. But for her mother, such a goal is unthinkable for a woman who could be a queen.
At a royal ball where Cath is expected to receive the King's marriage proposal, she meets handsome and mysterious Jest. For the first time, she feels the pull of true attraction. At the risk of offending the King and infuriating her parents, she and Jest enter into a secret courtship.
Cath is determined to choose her own destiny. But in a land thriving with magic, madness, and monsters, fate has other plans.
The Geek's Guide to Unrequited Love by Sarenaz Tash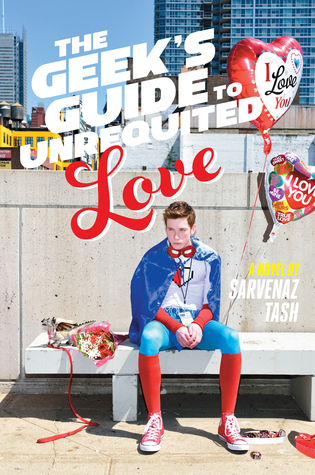 This is possibly one of the most fluffiest books I have ever read. I know that I say that about every YA romance book that I read, but this time it is really true! I loved this book so much! It was so adorable and so cute! I was left smiling throughout the whole entire book. ★★★★✩
About The Geek's Guide to Unrequited Love
Peter Parker and Gwen Stacy. Archie and Veronica. Althena and Noth.…Graham and Roxy?
Graham met his best friend, Roxy, when he moved into her neighborhood eight years ago and she asked him which Hogwarts house he'd be sorted into. Graham has been in love with her ever since.
But now they're sixteen, still neighbors, still best friends. And Graham and Roxy share more than ever—moving on from their Harry Potter obsession to a serious love of comic books.
When Graham learns that the creator of their favorite comic, The Chronicles of Althena, is making a rare appearance at this year's New York Comic Con, he knows he must score tickets. And the event inspires Graham to come up with the perfect plan to tell Roxy how he really feels about her. He's got three days to woo his best friend at the coolest, kookiest con full of superheroes and supervillains. But no one at a comic book convention is who they appear to be…even Roxy. And Graham is starting to realize fictional love stories are way less complicated than real-life ones.
My Top Three Posts
My Favorite Posts in the Blogger Galaxy
How was your Thanksgiving? Are you excited for Christmas? What books have you read in November? Favorites? DNF's? Comment below and let's chat!