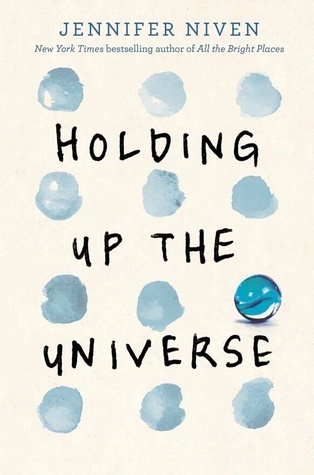 Title: Holding Up The Universe
Author: Jennifer Niven
Publisher / Publishing Date: October 4th, 2016 by Knopf Books for Young Readers (first published on April 4th, 2016)
Source: Library
About: Everyone thinks they know Libby Strout, the girl once dubbed "America's Fattest Teen." But no one's taken the time to look past her weight to get to know who she really is. Following her mom's death, she's been picking up the pieces in the privacy of her home, dealing with her heartbroken father and her own grief. Now, Libby's ready: for high school, for new friends, for love, and for every possibility life has to offer. In that moment, I know the part I want to play here at MVB High. I want to be the girl who can do anything. 
Everyone thinks they know Jack Masselin, too. Yes, he's got swagger, but he's also mastered the impossible art of giving people what they want, of fitting in. What no one knows is that Jack has a newly acquired secret: he can't recognize faces. Even his own brothers are strangers to him. He's the guy who can re-engineer and rebuild anything, but he can't understand what's going on with the inner workings of his brain. So he tells himself to play it cool: Be charming. Be hilarious. Don't get too close to anyone.
Until he meets Libby. When the two get tangled up in a cruel high school game—which lands them in group counseling and community service—Libby and Jack are both pissed, and then surprised. Because the more time they spend together, the less alone they feel. Because sometimes when you meet someone, it changes the world, theirs and yours. (Goodreads)
---
The love for Holding Up The Universe is beyond crazy. Every single review I have read has been a very positive review. When I went to the library on a very crazy, yet fun night, I looked in my regular section. You know, just minding my own business, letting everybody know that I have a book blog and I read five books in three weeks.
Then, I saw Jennifer Niven's, Holding Up The Universe.
I have never read a book by Jennifer Niven's in my whole entire life. I recently found out that they were making a movie for All The Bright Places. So I was thinking to myself, "Why not give this book a try? I mean, it has been on your TBR for a while now."
BAM. That's how I end up here.
First things first; characters. I really loved both of the characters, but for some reason I didn't like them at some points in the book. Libby was once dubbed as "America's Fattest Teen." When she started to get hate mail, she just shook it off and even though she was pretty sure she knew who was sending them to her, she still didn't tell anybody.
I mean, I would have told somebody. When somebody sends hate mail about you, you have to tell somebody or it is going to keep on driving you bananas.
I really liked Jack. He was a pretty nice guy, but he and his friends could be jerks sometimes. I didn't really warm up to Jack because it has been a while and he has never told anybody that he can't recognize people. Just like the hate mail situation revolving around Libby above, Jack's situation is a big deal also.
Also, Jack said a lot of cuss words. Even when he wasn't talking out loud he still said them. I mean, do teens really say cuss words? I haven't said one at all throughout this whole entire. year. Sure, I know that all teens are growing up and they listen to what adults have to say, but that doesn't mean that you have to start a trend. He even had his ten year old brother saying the words that he says.
I read this one review and I learned that mental illnesses and romance has become a trend. Honestly, I find it interesting because it is something different. However, it seems like it happens in a lot of books now. Again, I don't mind at all.
Going onto some of my positivity opinions now, I loved how Libby and Jack got closer to each other and I love how they accepted each other, even though they were totally different. I think that people in the real world should read this book because it will leave a positive impact on you. If you have ever judged somebody by their looks, race, or anything else, this book will make you think twice before you send a nasty letter or text a rude remark to somebody privately.
Overall, I adored this book and I can not wait to read more books by Jennifer Niven as soon as I get the chance to. ★★★★✩
What do you think of Jennifer Niven's, Holding Up The Universe? Are you strong enough to hold up the universe?* What do you think about the romance and mental illness trend? I need to know, so comment below!
*WAHAHAHAHA. Just kidding about that part. Let me rephrase that; what are some good things that you have done around the holiday season, or just all year round, that made you feel like you were holding up the universe?