You know how when it's a new year, like right now, all of these things that you know are crashing over you like a wave of craziness? I was recently thinking of everything that is going on this year, even towards the END OF THE YEAR, but I'm not going to talk about that because I'm only four days into the year here.
Anyway, here are some things that I am literally realizing right now because I'm in the late kids club and if anybody would love to join me then hop on your unicorn and it will fly you up the rainbow.
Camp Nanowrimo is literally three months away.
I mean, SHH. I already have a great idea in mind and I want to go over the top. I'm kind of picturing a haunted house, Cara Delevingne with short black hair up to her chin with bangs and she is also really dark and has a super weird family, and the appreciation of being homeschooled, which I make super awesome in my novel.
I mean, we are definitely those anti-social kids. *sarcastic tone*
 I think society has made a mistake on us homeschoolers because I am actually more social now that I am homeschooled. Also, Eddie Redmayne makes this statement a lot more cuter and true.
My book, Gears of Ember, is coming to YOUR screen soon.
Okay, so far the whole self-publishing process is taking a super long time because I have to download this PDF and finish editing, but I promise that my book is going to come to your screen as soon as possible! Also, I'm looking for beta readers, maybe about four that will make updates about the book on Goodreads as they read, so if you are interested contact me please here! I do free services and I'll send you the whole PDF!
Yes. You heard me.
In the meantime if you happen to be making fan art and making a wish list for this book even though Christmas is eleven months away, you can follow my Pinterest board based on the book to get those vibes on what the book will be full of. While you're at it, you can follow my whole Pinterest, but I'm not forcing you to. Also you can follow me on Goodreads and we can be friends!
"The Space Between Us" is coming out, hopefully.
This movie was supposed to come out in August?! I just know that it was supposed to come out in December, then they bumped the date all the way to February because of "Passengers" and "Rogue One." I mean, that's a lot of movies set in space. However, I wouldn't mind crying and fangirling over Asa Butterfield in space all by myself in a dark room. Nobody would stare at me like I'm crazy so…
BOOKS
I don't think that I am fully taking advantage of all of the amazing books that are coming out this year. I mean, this is going to be GREAT and plus I'll get to read and who doesn't like to read? If you don't, you have three seconds to run and you better run fast.
In the spirit of books, I am so pumped to read some of the fantastic books that are going to be published this year. Here are some upcoming releases that I am mostly excited about to read once they are published.
A Season of Daring Greatly by Ellen Emerson White: Because it's about a girl who plays Minor League ball for the Pittsburgh Pirates organization, she's a pitcher, and people think that she can't play ball because she's a girl. What I love about this book is the whole baseball story and the female determination.
Also the author is so nice and just so you know it is nothing like FOX's "Pitch." I am so pumped to see what this book brings. Plus it has a message that girls can do anything that they put their mind to and I support that one hundred percent.
Summary: Eighteen-year-old Jill Cafferty just made history. Her high school's star pitcher, she is now the first woman drafted by a major league baseball team. Only days after her high school graduation, she'll join the Pittsburgh Pirates' Class A Short Season team . . . but not everyone is happy to have her there.
On top of the pressure heaped on every pitcher, Jill must deal with defying conventions and living up to impossible expectations, all while living away from home for the first time. She'll go head-to-head against those who are determined to keep baseball an all-male sport. Despite the reassurance of coaches and managers alike, a few of her teammates are giving her trouble. The media presence following her at each game is inescapable. And to top it all off, Jill is struggling with the responsibilities of being a national hero and a role model for young women everywhere. How can she be a role model when she's not even sure she made the right choice for herself? Didn't baseball used to be fun?
This literary and engrossing story of a young woman trying to mark out a place for herself in a male-dominated world will captivate fans of Friday Night Lights, The Art of Fielding, John Corey Whaley, and Laurie Halse Anderson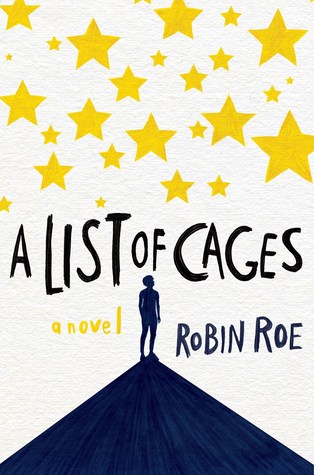 A List of Cages by Robin Roe: I don't know what brought me to fall in love with this book so quickly, but I guess I loved it because it was something different and I don't know a lot about ADHD. As you can tell, this comes out NEXT WEEK and my birthday is NEXT WEEK, so I'm just going to tell everybody that I really want this book a lot.
Summary: When Adam Blake lands the best elective ever in his senior year, serving as an aide to the school psychologist, he thinks he's got it made. Sure, it means a lot of sitting around, which isn't easy for a guy with ADHD, but he can't complain, since he gets to spend the period texting all his friends. Then the doctor asks him to track down the troubled freshman who keeps dodging her, and Adam discovers that the boy is Julian–the foster brother he hasn't seen in five years.
Adam is ecstatic to be reunited. At first, Julian seems like the boy he once knew. He's still kind hearted. He still writes stories and loves picture books meant for little kids. But as they spend more time together, Adam realizes that Julian is keeping secrets, like where he hides during the middle of the day, and what's really going on inside his house. Adam is determined to help him, but his involvement could cost both boys their lives.
Carve the Mark by Veronica Roth: Yes. This is the same Veronica Roth who wrote the bestselling Divergent series. Even though I may or may not have forgiven her about the ending of Allegiant, which I did after I cried about it forever, I am thrilled to read Carve The Mark because it comes out the week AFTER my birthday and I'll have some cash to spend so…
On the other note, I have been hearing a lot about this book and how it's racist and stuff like that. All I have to say it I don't know because I haven't read an advanced copy. All in all, I'm still going to read it because I am a big fan of Veronica Roth's books.
Summary: On a planet where violence and vengeance rule, in a galaxy where some are favored by fate, everyone develops a currentgift, a unique power meant to shape the future. While most benefit from their currentgifts, Akos and Cyra do not—their gifts make them vulnerable to others' control. Can they reclaim their gifts, their fates, and their lives, and reset the balance of power in this world?
Cyra is the sister of the brutal tyrant who rules the Shotet people. Cyra's currentgift gives her pain and power—something her brother exploits, using her to torture his enemies. But Cyra is much more than just a blade in her brother's hand: she is resilient, quick on her feet, and smarter than he knows.
Akos is from the peace-loving nation of Thuvhe, and his loyalty to his family is limitless. Though protected by his unusual currentgift, once Akos and his brother are captured by enemy Shotet soldiers, Akos is desperate to get his brother out alive—no matter what the cost. When Akos is thrust into Cyra's world, the enmity between their countries and families seems insurmountable. They must decide to help each other to survive—or to destroy one another.
That I still have a WHOLE CLEAN SLATE ahead of me.
I think that there is enough said based on the sentence above this sentence, but this is a new year and I have made my resolutions. I have brushed away the dirt, which in this case is last year, but not completely because there are some few shiny specks that I really want to keep because those are memories.
This year is going to be filed with books. This year is going to be filled with new memories with friends. This year is going to be filled with posts from your's truly.
This year is going to be awesome.
What do you suddenly realize that is going to be happening in the future? Don't worry! I'm not a fortune teller! What are three upcoming releases that you are currently excited for? Comment below because I need more books on my TBR as soon as possible!