Hi! I honestly think that I am winning the blogging season right now for Polaroid Books because this is the third post this month that I have done. I mean, I have to admit that I am actually pretty proud of myself. Sometimes I may be inactive and I may not reply to every single comment, but that barely ever happens unless I'm super busy and stressed.
Anyway, this is the last installment of Beautiful Books from last year on Polaroid Books and to be honest it has been really fun doing these and letting you in on my writing life. Trust me, I let nobody in whatsoever so think of this as a gift from me to you.
Beautiful Books was created by the ever so wonderful Cait @ Paper Fury and the ever so wonderful Sky @ Further Up & Further In. I felt like they needed an intro, so I gave them one even though they aren't here. They give you ten questions about how your writing life is like and you get to answer them! It's really fun if I do say so myself. Let's get started!
The Questions
What were your writing achievements last year?
Well, I really wanted to write a novel and I did! I wanted to do Camp Nanowrimo and I practically owned it. I also did Nanowrimo, which I won in the first week because I'm the kind of writer that plans two or three months ahead. I also edited my novel, Gears of Ember which you can actually add on Goodreads here!
Let's just say that I practically won the whole entire year.
What's on your writerly "to-do list" for 2017?
Maybe write another novel, do Camp Nanowrimo and possibly Nanowrimo? I also really want to update my story boards on Pinterest because they only have seven pins and they may be really lonely, longing for more pins to go along with the novel that I wrote.
I also want to edit some more, because it is actually pretty fun, and beta read other fellow indie authors' books.
Tell us about your top-priority writing projects for this year!
YAY! YOU GUYS HAVE NO IDEA HOW EXCITED I AM TO TELL YOU WHAT I HAVE PLANNED.
So, I am have no idea whatsoever what I am going to call my newest project, but it is going to be about a teen boy's adventure in his brand new town. It is going to have a strange girl who really loves Edgar Allen Poe, strange parents who may be burying bodies in their backyard, muffin appreciation, maybe flushing a little kid's goldfish down the toilet, and homeschoolers actually being social.
I'm just saying that this is an idea, but there is a 99% chance that I will actually write this sometime this year.
How do you hope to improve as a writer? Where do you see yourself at the end of 2017?
Maybe using correct grammar? I have a habit of messing up with sentences and I really want to try and improve on that. I also really want to find out how to publish my novel, which is going to happen, and I don't want to keep on bouncing the release date back even more than it already is. I also want to take breaks during my writing time because I literally write like it's going out of style.
I think that I may see myself by the end of 2017 as a bit more experienced than I already was. I'm only a teenager right now and I still have a lot to learn, but I am actually learning it pretty fast.
Describe your general editing process.
I sit in front of the computer, thinking about what I really want to edit, and I edit it.
Hah. It is pretty boring.
Wait, let me take that back. It is actually the most boring and unoriginal editing process in the history of editing processes, but we all have our own editing processes.
On a scale of 1-10, how do you think this draft turned out?
I really think that the finishing draft turned out really great! After I edited it and everything, I fell in love with that. The whole concept of the story goes really deep in my heart and I just love it a lot. So, I think that I would have to say a ten.
What aspect of your draft needs the most work?
Um, maybe the double checking editing before it actually gets published? I have to make sure that everything is just right. I wouldn't want it to be too confusing and too complicated to read. I don't want it to be just boring and I want to put in those little moments that make everything magical.
What do you like the most about your draft?
Maybe the part where Jake and Ember were having quality time together. They remind me of a boyfriend and girlfriend type of character, but then at other times I honestly don't ship them because they remind me of a brother and sister type of duo.
What are your plans for this novel once you finish editing? More edits? Finding beta readers? Querying? Self-publishing? Hiding it in a dark hole forever?
I really would like to find beta readers, if you interested me contact me above! I was going to hide in a dark hole, looking at ancient pictures and reading books, but I decided that I am going to self-publish my book! YAY!
I am honestly so excited because I have never done anything like this before, so this is something new for me to do. Plus, I'll even do it again!
What's your top piece of advice for those just finished writing a first draft?
Ooh. I love giving advice and here is my advice for anybody who is finishing writing their first draft!
Honestly, keep on going! You finished writing your first draft, right? Well, keep on going! Don't ever get up. It may get hard and you may or may not have people in your way, but don't let anybody bring you down. Here's a jam song in case you want to jam out, shake off the stress, and get back up on your feet. Also this may or may not be my favorite song right now so…..
About Gears of Ember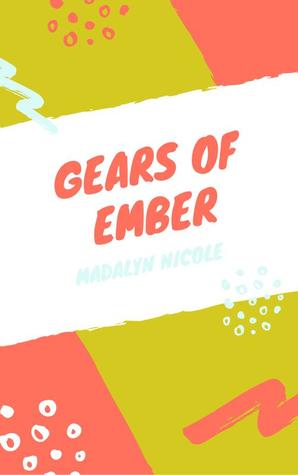 Jake Murphy, an aspiring inventor, works in his father's factory day and night. When he stumbles into his room after his has a silly fight with his father, he scrambles to his room and sees his crowded desk covered in papers. Something catches his eye.
It is an idea to build London's first android. Perhaps the world's first android.
Leading up to the night of the 24th Annual Summer Night Dance, Jake and Ember, the android Jake built, embark on an adventure that involves stealing a car, crashing in a hotel room, and rowing out in the ocean. What happens will leave you speechless.
What writing goals did you accomplish in 2016? What are some writing goals that you want or need to accomplish this year! Tell me about your editing process and a song that is currently your jam in the comments below!