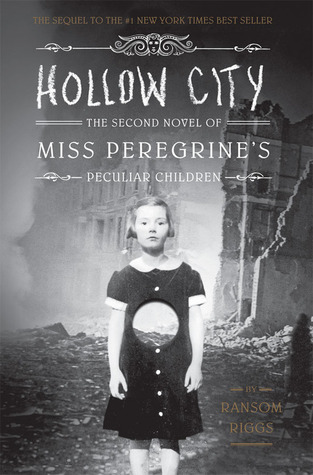 Title: Hollow City ("Miss Peregrine's Peculiar Children" #2)
Author: Ransom Riggs
Publisher / Publishing Date: February 24th 2015 by Quirk Books (first published January 14th 2014)
Summary: Miss Peregrine's Home for Peculiar Children was the surprise best seller of 2011—an unprecedented mix of YA fantasy and vintage photography that enthralled readers and critics alike. Publishers Weekly called it "an enjoyable, eccentric read, distinguished by well-developed characters, a believable Welsh setting, and some very creepy monsters."
This second novel begins in 1940, immediately after the first book ended. Having escaped Miss Peregrine's island by the skin of their teeth, Jacob and his new friends must journey to London, the peculiar capital of the world. Along the way, they encounter new allies, a menagerie of peculiar animals, and other unexpected surprises.
Complete with dozens of newly discovered (and thoroughly mesmerizing) vintage photographs, this new adventure will delight readers of all ages.
---
Okay, I am pretty sure by this post and this post that you all know that I love Ransom Riggs's "Miss Peregrine's Peculiar Children" series. Actually, I adore the whole entire series. It is different, but in the best way possible.
Hollow City is the second book in Ransom Riggs's bestselling series. It goes right to where they left off in the first book and the adventure continues throughout the whole entire story. It is really interesting and the book is so hard to put down.
The chapters are so long, but they are so descriptive and you can see everything in your mind. It is written in a different way, mostly the whole entire format, but it is so interesting to see how everybody acts and what they love. Riggs is so in depth with his writing and it makes me fall in love again with the whole entire series all over again.
I also got introduced to new characters such as Addison, a dog who is very proper and Athena, a girl who has ice powers. Also if you read Tales of the Peculiar, you can see that they mention a few of the stories from that book in Hollow City. I may or may not have had a fangirl moment as I was reading. Maybe I fangirled throughout the whole entire book as I was reading it.
Also, you can't forget the mesmerizing photos that are so cool, yet so spooky. There were so many photos and I love how Riggs's uses them to tell the story. It is so unique and so cool at the same time. I would do it, but then I would be copying and I certainly don't want to do that.
Riggs's is literally the KING of using photos to tell the story in his books.
I was so glad to get to know the peculiar children better like Enoch. He was literally my favorite character ever since I saw the movie. He is so adorable, yet he is sarcastic all of the time. He is also so sassy. Millard is also one of my favorite characters because he loves doing research and he loves books. I also love Emma because she is a bit feisty and rebellious, but she never wants to give up. I also really love Jake because he is just really awkward. Little Olive is also so adorable! I love Bronwyn because she is like the mother when Miss Peregrine isn't there. Hugh is just so headstrong and Horace is a bit of a wimp, but when it comes to clothes he is literally in Heaven.
As you can tell, I love all of the characters. I mean, it is so hard to choose one character as your favorite because they are all so different!
TWISTS! Oh, the twist towards the end. I was NOT expecting that to happen! It was around twenty minutes before midnight when I finished the book and I literally said, "DUDE! BRUH! NO WAY! THAT DID NOT JUST HAPPEN!" out loud and luckily I didn't wake anybody up, family and my neighbors.
I can't help it. I love to read.
I am not rating this book five stars just because I love the fandom and I love how eerie and magical it is. I am rating it five stars because I really enjoyed it just like the first one. I really love the characters, the writing, the photos that tell the story, and so much more. The list could possibly go on forever.
Have you read Hollow City yet? Do you like the photos in the story? Who is your favorite peculiar child? Which one do you think you relate to the most? Comment below and let's chat!