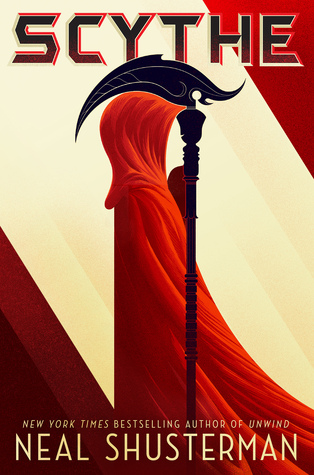 Title: Scythe ("Arc of the Scythe #1)
Author: Neal Shusterman
Publisher / Publishing Date: November 22nd 2016 by Simon & Schuster Books for Young Readers
Summary: Thou shalt kill.
A world with no hunger, no disease, no war, no misery. Humanity has conquered all those things, and has even conquered death. Now scythes are the only ones who can end life—and they are commanded to do so, in order to keep the size of the population under control.
Citra and Rowan are chosen to apprentice to a scythe—a role that neither wants. These teens must master the "art" of taking life, knowing that the consequence of failure could mean losing their own.
---
Going into Neal Shusterman's Scythe, I had no idea what to expect. I was kind of confused by the whole entire synopsis of the story, even though it was really interesting to learn more about it. This was also a book that I had to read for book club, but I was reading it before we had to start reading it.
Scythe was very interesting to read. For me, it had a very intriguing world and everything was so crazy in their world. The setting of the book was very apocalyptic like. Humanity was perfect. Nobody died. They all lived forever except when the Scythes came to glean, which gleaning is a fancy way of saying, "Sorry, but you are going to die, sucker."
Citra was a very strong girl even before she was chosen by legendary Scythe Faraday to be one of his Apprentices. She meets Scythe Faraday when he comes over to her house to eat dinner. However, they all think that they are going to be gleaned. Scythe Faraday grants Citra's mom immunity for a year with his ring.
Rowan, in my opinion, was a very geeky kid at the beginning of the book. He meets Scythe Faraday at his school when he walks into the building. It turns out that he is going to glean the star quarterback of their school that has led them farther than they ever have in their school's history. Rowan goes with Scythe Faraday to watch the boy get gleaned because he is really freaked out. And, *insert spoilers here* I also think that it is totally bad that towards the middle to the end of the book I was seeing Rowan as the Russian boxer in the "ROCKY" movies.
Aren't I so nice to not give away spoilers?!
Before I had to read this for book club, I was actually considering ditching this book. I found the beginning kind of slow, but things get interesting towards the middle and once you hit that end it hits you like a brick in the head. OH MY GOSH THE FEELS BRO!
LET ME SUM IT UP IN A GIF.
JUST ONE, MATES.

YEAH, WATCH ME CRY AND FREAK OUT AND DO EVERYTHING AT ONE TIME BECAUSE I AM THE ULTIMATE MULTITASKER.
Okay, the whole entire book was one whirlwind of fancy killing in an orderly fashion, training, and getting people to do what you want even though you didn't ask for it. It was… awesome. I am pretty sure after one year of blogging on this blog, you all know that I really like books like this. Let me rephrase that, I love books like Scythe.
Or, pronouncing the title in a different way that it totally wrong. Including me, and some of my friends. You know who you are. *wiggles eyebrows*
Anyway, it is actually kind of hard to explain the whole entire concept of this book because it is actually kind of deep and sort of insanely awesome. It is one of those kinds of feeling where you wish that you could type up everything that you have wanted to type, except that they aftermath of the book is still haunting you in the best way possible. ★★★★★
Have you read Scythe yet? If so, what are your thoughts and feelings about the book? Citra or Rowan? I lean towards both, but I totally relate to Rowan's past a itty bit more than Citra's. Comment below and let's chat about it!