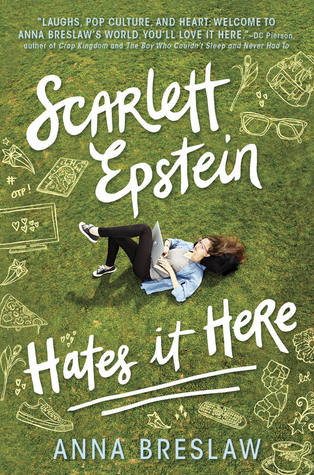 Title: Scarlet Epstein Hates It Here
Author: Anna Breslaw
Publisher / Publishing Date: April 19th, 2016 by Razorbill
Summary: Meet Scarlett Epstein, BNF (Big Name Fan) in her online community of fanfiction writers, world-class nobody at Melville High. Her best (read: only) IRL friends are Avery, a painfully shy and annoyingly attractive bookworm, and Ruth, her weed-smoking, possibly insane seventy-three-year-old neighbor.
When Scarlett's beloved TV show is canceled and her longtime crush, Gideon, is sucked out of her orbit and into the dark and distant world of Populars, Scarlett turns to the fanfic message boards for comfort. This time, though, her subjects aren't the swoon-worthy stars of her fave series—they're the real-life kids from her high school. And if they ever find out what Scarlett truly thinks about them, she'll be thrust into a situation far more dramatic than anything she's ever seen on TV…
To be honest, I loved Scarlett. Scarlett reminded me a lot of myself! She was quirky and nerdy and she loves to write. Plus, she is great at it and I strive to be here.
I know that I literally jumped right into the point about how Scarlett is probably one of the most relatable YA characters that you will ever read about in your whole entire life, and it is actually really true! She isn't perfect and she is just like some of the girls that you see in real life. She doesn't care about what anybody thinks of her or her family and she reminds me of a younger Black Widow for some odd reason, mostly because I think that Scarlett is very head strong.
I thought that Gideon, Scarlett's best friend and love interest, was really adorable. I mean, can I have him? Can he be my dream guy forever? Can I seriously have a Gideon RIGHT NOW? He was so cute and so funny and I loved how his passion was being a comedian. Most YA love interests' passions are football, baseball, and mainly sports. However, I love all of the geeky YA love interests because they are different! Plus, they can be so adorable.
What I also loved about this book is that Scarlett has internet friends and she wrote fan fiction based off of her favorite TV show that was sadly canceled. Okay, if you don't know me then I am just going to point out that this sounds like something I would probably do. I mean, I would totally do it. I already write about tons of stuff already. What makes this any different? I really loved how it had snippets of her fan fiction and everybody loved it and it showed the comments. It also showed who all of her internet friends shipped and it was so cool!
If you have not read Scarlett Epstein Hates It Here, you should probably go buy it or see if it is at your library as soon as possible. This is definitely a five-star read in my eyes and I hope that you get the chance to read it also!
Have you read Scarlett Epstein Hates It Here? Do you want to read it? If you have read it, comment below what you thought about the book below in the comments below!