GUESS WHAT I FOUND! I AM SO EXCITED, YOU HAVE NO IDEA!
So, I was browsing blogs, more like I looked up Miss Peregrine's Book Tag on the internet and I clicked on the first link that popped up. I mean, that's what you have to do, you know? And then, I found this. Click if you dare, fellow peculiars.
If you have been reading this blog since the movie came out, you know all about my obsession and why I love the series so much. Now, I finally found a tag and it was created by one of my favorite book YouTubers of all time, created by Jesse @ JessetheReader! I am going to stop rambling now and get started with the tag, right now!
•  ABANDONED HOUSE – A BOOK THAT YOU ONCE ABANDONED, BUT THEN GAVE IT ANOTHER CHANCE AND ENDED UP ENJOYING IT  •
I remember when I was in the fourth or fifth grade, I wanted to read The Hunger Games so bad. It was a seventh grade level and all of my classmates weren't allowed to read up in that level. Supposedly you are supposed to be approved somehow to get up to read those books. I went to the library, asked the librarian if I could read it and she said that I could. I tried getting into the book, but I just wasn't interested back then. I know, I stunk back then. Now, I love the series so much and I really want to read it again sometime. I need some more of Peeta, and the occasional Cato because I can't help but to love him, in my life.
•  VINTAGE PHOTOGRAPHS – A BOOK THAT YOU WOULD HAVE LOVED TO SEE ILLUSTRATIONS IN  •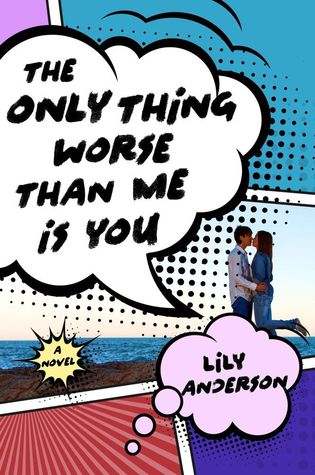 I think that it would be kind of cool to see illustrations in Lily Anderson's, The Only Thing Worse Than Me is You. It has that comic book vibe and I think that it would be cool to see little comic book strips here and there in the book! I love comic book illustrations and I love how everything is set up in comic books, so I'm proving my point right there. Overall, it is still a fantastic book with or without the comic book strips idea.
•  LOOP – A SERIES YOU WOULDN'T MIND READING ON LOOP  •
The Maze Runner, hands down. I am currently in a reading slump, mostly because I have nothing to read and I am actually in the mood for some James Dashner books, so don't be surprised if you see me fangirling over the series in a little bit.
•  PECULIAR CHILDREN – A CHARACTER'S ABILITY THAT YOU DESIRE FOR YOURSELF  •
This one is going to be an ability from Miss Peregrine's because I really want to be a part of things down in Wales. I think that if I had to choose one ability, it would be Millard's. I wouldn't mind being invisible, okay maybe a lot because nobody would realize that I am there, but I would love to pull pranks on people who can't see me, which is everybody. I also love books, so I don't see how I can't be Millard. Also, Millard is really cute and cheeky and I just love my little nerd so much.
•  MISS PEREGRINE – YOUR FAVORITE CHARACTER WHO IS A LEADER  •
I almost typed up ladder instead of leader, what even. Anyway, I really like my character, Dylan from the Incognito series which I started writing, two years ago? I seriously have no idea. It is saved in my drafts somewhere. I like how he started off as a normal teenage boy who just had a big thing for comic books and then he leads a whole entire adventure with many twists and turns along the way. Trust me, if you all could read it, you would probably love it as much as I do.
•  JACOB – YOUR FAVORITE STORY WHERE A KID DISCOVERS AN EXTRAORDINARY WORLD  •
I am going to have to say my favorite classic story, Alice in Wonderland. I really love the aspect and everything about the whole entire story, even though some people don't really like it that much, but to me it is my favorite classic story of all time and I was so blessed to read it for school last year! I hope I can read more books that are similar to the world of Wonderland, but I don't think that anything will ever compare.
•  EMMA – A FIERCE AND FIERY CHARACTER  •
Thalia from the Percy Jackson series is very fiery, a tad bit feisty, and fierce. She is very competitive and it always seems like she had her head in the game. It also seems like she is up for any challenge that may or may not come her way. I seriously want to be like her in some ways, mostly confidence booster type of ways, but that is the great thing about book characters! Sometimes they can change you in the best way!
•  MILLARD – A BOOK THAT SEEMS TO BE INVISIBLE, BUT NEEDS TO BE READ BY MORE PEOPLE  •
I really love John Coy's Gap Life and last time I checked, it only had a little bit of reviews. However, it was a really great book and I think that everybody should get the chance to read it when they could because this book is so heartwarming and so sweet. It is definitely a story of friendship.
• OLIVE – A BOOK THAT YOU BOUGHT THAT FLOATED TO THE TOP OF YOUR TBR  •
A month or two after this book came out, I bought A Season of Daring Greatly. I am a huge fan of baseball and I really wanted this book. I mean, it is so beautiful in every single part! The cover, the pages, and the story is beyond amazing. Plus, I even got to talk with the author, which made me even more excited about the book. We even talked baseball, which is a combination of my two favorite things in the whole entire world.
•  HUGH – A BOOK THAT STUNG AND CAUSED A LOT OF FEELINGS  •
Probably Allegiant? That book caused me to have a ton of feelings at the end. I was sad, shocked, kind of mad, but then I was kind of relieved that I was done with the series. It is an amazing series, and you should totally read it if you haven't yet, but get ready for your heart to shatter into a million pieces if you do.
•  ENOCH – WITHOUT SPOILING, TELL US A BOOK CHARACTER THAT YOU WOULD LIKE TO BRING BACK TO LIFE  •
I seriously have no idea which character I would like to bring back alive, but my personal experience of writing, I would love to bring one of my characters back alive. His name is Rufus and to Dylan, he was like another father to him, even though he had only knew him for a day or two. However, he helped Dylan and it made a huge impact on his journey.
•  BRONWYN – A PHYSICALLY STRONG CHARACTER  •
I would have to say that Wolf is a very strong character. He is very kind to Scarlet, and he's a fighter. Plus, he sounds like a very handsome guy. I mean, probably everybody thinks that about some type of fictional character. He may look like a big, bad scary guy on the outside, but on the inside he is kind and caring.
•  HOLLOWGAST – A BOOK THAT YOU READ THAT FELT LIKE AN EXPERIMENT GONE WRONG  •
I read this one book about a talking hamster. I forget the title of the book, but never. Again.
•  WIGHTS – A BOOK THAT YOU FELT LIKE IT CONSUMED TROPES THAT YOU'VE SEEN DONE IN OTHER BOOKS  •
After the Twilight series came out, it seemed like everybody started doing vampire romances. I mean, I love reading about them. Trust me, it is so interesting and so sweet to read about. However, it seems like so many books are doing the vampire romances now. I have only heard of Twilight, but I am guessing that there are more books that are trying to be the next vampire love story. I don't know if I am the only person who feels this way about this though.
•  TAGGING  •
Anybody who is extremely peculiar, like me.
What do you think about this tag? Isn't it super awesome? If you are going to do it, pretty please tag me in it! I would love to see your answers! Also, let's talk everything peculiar in the comments below!