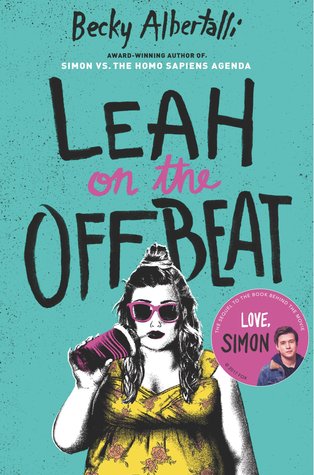 Title: Leah on the Offbeat (Creekwood #2)
Author: Becky Albertalli
Publisher / Publishing Date: April 24th, 2018 by HarperCollins / Balzer + Bray
Source: Barnes & Noble
Summary: Leah Burke—girl-band drummer, master of deadpan, and Simon Spier's best friend from the award-winning Simon vs. the Homo Sapiens Agenda—takes center stage in this novel of first love and senior-year angst.
When it comes to drumming, Leah Burke is usually on beat—but real life isn't always so rhythmic. An anomaly in her friend group, she's the only child of a young, single mom, and her life is decidedly less privileged. She loves to draw but is too self-conscious to show it. And even though her mom knows she's bisexual, she hasn't mustered the courage to tell her friends—not even her openly gay BFF, Simon.
So Leah really doesn't know what to do when her rock-solid friend group starts to fracture in unexpected ways. With prom and college on the horizon, tensions are running high. It's hard for Leah to strike the right note while the people she loves are fighting—especially when she realizes she might love one of them more than she ever intended. (Goodreads)
---
I have heard so many mixed feelings about the sequel to Becky Albertalli's, Simon V.S. the Homo Sapien's Agenda, so it left me super curious to figure out what everybody was talking about. Plus, I loved the first book of the "Creekwood" series and I was dying to get my hands on the second book! Honestly, having the whole series right now that I can actually call mine is a pretty big deal for me!
Leah on the Offbeat is the sequel to Becky Albertalli's award-winning novel, Simon V.S. the Homo Sapiens Agenda. The story revolves around Leah Burke, a girl band drummer and Simon Spier's best friend. When it comes to drumming, Leah can usually hit every single beat, but when it comes to real life, that is actually sort of hard for her. Leah is kind of like the odd one out of her friend group. She is an only child to a single mother, and she doesn't really have everything that a girl can ask for. Plus, she is bisexual and her mom knows about it, but she hasn't come up with enough courage to tell her openly gay best friend, Simon.
Their friend group starts to actually break in ways that nobody in the group saw coming. Prom and college for the gang are coming up quick and tensions are running high. It is certainly really hard for Leah to find a beat while her friends are fighting.
"Leah.' Mom shakes her head. 'You've got to stop doing this.'
'Doing what?'
'Burning everything to the ground whenever something goes wrong."
Leah is a very interesting character. She wasn't my favorite in Simon's book, but I still wanted to get to know her in her book. I guess she could be harsh at times, very rude and mean. Also, she was kind of ticked off that Simon didn't come to her first, telling her that he was gay when she wouldn't even tell Simon that she was bi. However, I get it. Not everybody is perfect. We obviously all have our flaws and that is what Leah has too. On the other side of this though, I like that Leah was the perfect nice girl because it seems like we see SO much of that already.
Getting off of the subject of Leah being rude and harsh to the other characters sometimes, Leah was actually really relatable! I like how she wasn't this rich girl who had everything that she could ever want. I like that her life was perfectly imperfect, if you know what I mean . Also, the book really focuses on friendships shifting because to be honest, our friendships aren't perfect in real life either.
"I swear, people can't wrap their minds around the concept of a fat girl who doesn't diet. Is it that hard to believe I might actually like my body?"
Also, the cover of the book is so beautiful! It shows a plus sized girl and honestly, seeing this makes me really happy because in the book, Leah embraces her body. She actually likes it and I think that no matter who you are, you are so beautiful and you are you! You shouldn't try to change yourself just because somebody else says something. That's one of the things that I really loved about Leah.
Plus, Simon and Blue were so freaking cute! OH MY GOODNESS! Getting to see their relationship blossom even more in the book was so amazing and I enjoyed every single bit of their cute gay moments. Ugh, I honestly just ship it so much, ultimate OTP.
Also, the f x f in the book was so cute also. The way Leah talked about the girl that she was in love with was so soft and so sweet and smol. I was shipping at some points, but then drama came in with their first kiss and I was just so confused because *DRAMA!*
I found this great paragraph from a review on Goodreads and it was a couple of days ago, but it was a review that I really liked a lot, so I kept the paragraph in mind and put it in my notes, but it is just a statement about the first kiss / drama scene which made me think a little bit because it was so important.
This scene was very unsettling to me. I understand what it was trying to do – point out that bisexual girls aren't just in it for LAUGHS but that we're actually genuinely queer, not straight girls messing around. But this scene really missed the mark. It upset me a bit, and I think it'd definitely hurt questioning people. I also think it's just kind of wrong. Being "lowkey bi" is valid. The implication is that she's a bit into girls, and you know what, if you're a girl who likes girls only a little bit, that is VALID. I think this scene really, really missed the mark. And I'm actually really surprised and shocked it passed so many sensitivity readers.
I love books like these because it defintely opens your eyes. I don't understand why people are disliking this book so much! Leah is different! She isn't the nice, perfect girl! She's different! Girls can be straight-up. They can have that i'll-tell-you-what-is-on-my-mind-either-way kind of girl. It wasn't my favorite book, but it was a great book and I recommend it to everybody who is reading this right now. ★★★★☆
Have you read Leah on the Offbeat yet? What did you think about Leah? Comment below and let's chat!